Our Product Services
1. DexPay
DexPay, one of Malaysia's leading e-wallet providers, offers you the convenience of paying for everyday services like bills, courier send parcels, prepaid reloads, and more – all within one app. You will also earn commission for every transaction you make with DexPay!
Courier Nationwide Express is an on-demand delivery service that is safe, fast, and reliable to deliver parcels from sender to receiver within one day after drop-off. Just drop your parcel at our Dexpoint.
2. DexMart
DexMart is an on-demand everyday goods delivery service.
You can now buy groceries, packaged food, healthcare products, beauty products,
gifts and many more via the DexPay app/web and have it delivered to you under 1 hour.
3. DexMerchant
DexMerchant helps you grow your business by tapping on our marketing channels to reach millions of food, mart and pay merchant partner.
Be our merchant-partner to get access tools that help you track, analyse and improve your business online.
4. DexPOS
DexPOS is an on-demand computerised network Point of Sale system which is linked to checkout terminals. Track and make decisions on the go with our mobile optimized reporting. It's enabling secured database storage better security and disaster prevention backup plan.
5. DexRider
DexRider will help you get your documents and non document item delivered on-demand, with real-time tracking. Our rider hand over your items to our well-trained drivers, and track the delivery real-time tracking.
6. DexCollect
DexCollect is a courier service platform for end user customers that provide on-demand delivery service that is safe, fast, and reliable to deliver parcels from sender to receiver. It will instantly book a door to door delivery for your documents and parcels.
7. DexPoint
DexPoint allow you to enter location of the pick-up point and the location of the drop-off point. Just enter few more details such as the name of the sender, receiver and parcel information to help the rider find the pick-up point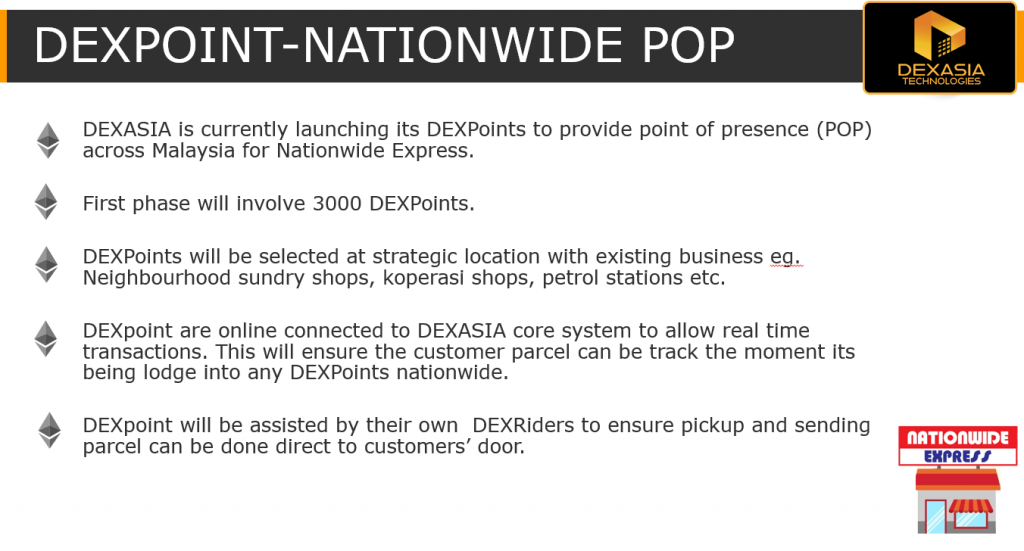 DEXPOINT – NATIONWIDE BASIC WORKFLOW

DEXPOINT GENERAL WORKFLOW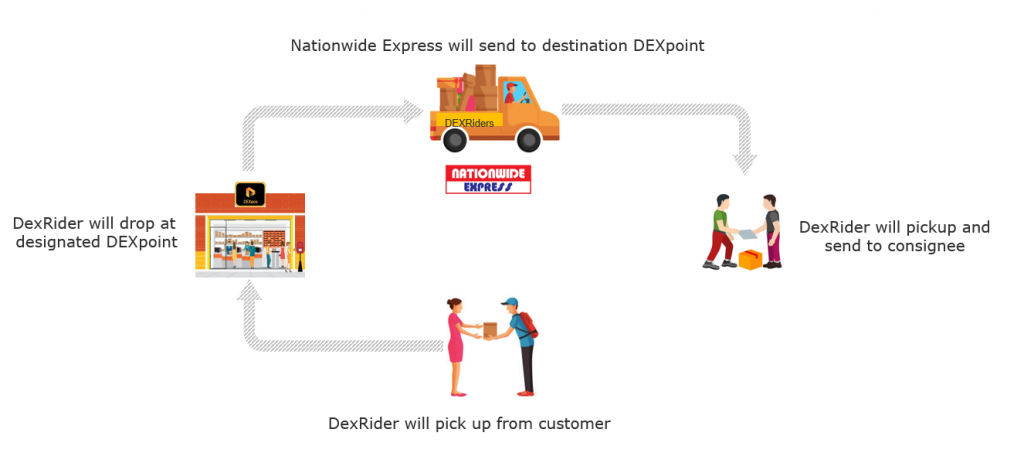 SAME DAY DELIVERY KLANG VALLEY

8. DexCustomer
DexCustomer is a Dexmart platform for customer that contains variety of local merchant and product to choose from.